FINDERS KEEPERS
THE FINANCIAL TIMES
Behind one of the world's greatest collections is a duo with a zeal for harmonising philanthropy with sound investment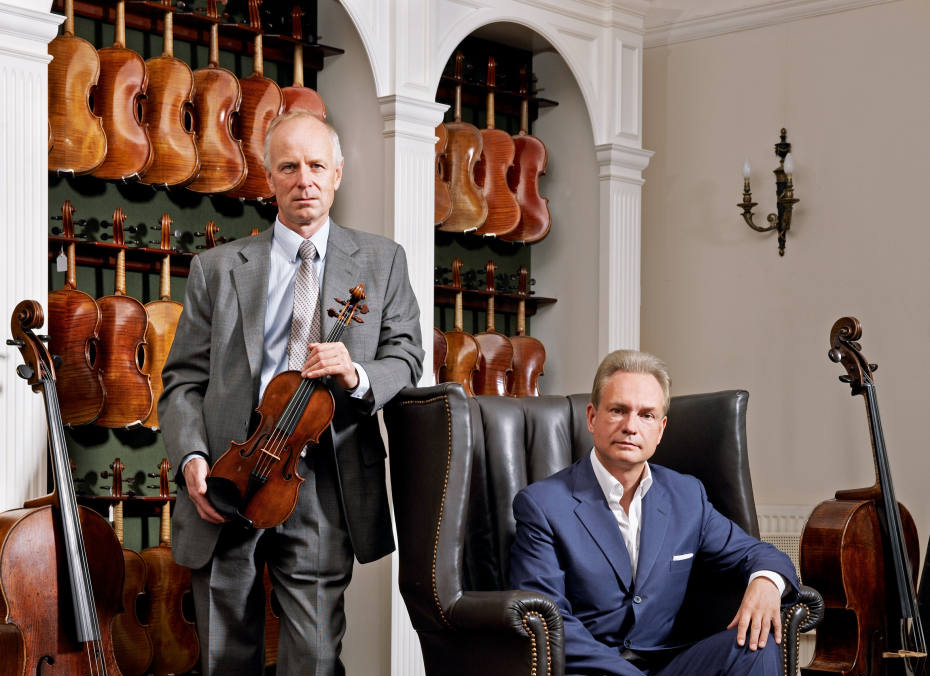 "I actually encountered one of your violins before I met you, Jonathan," says Simon Morris, one of the world's foremost experts on 18th-century Italian stringed instruments and former co-director of the London-based dealer and restorer J & A Beare. The violin in question was the 'Earl Spencer' Stradivarius, made in 1712, Cremona. Its owner is Jonathan Moulds who, until late 2012, was CEO of Merrill lynch International and European president of Bank of America. He had loaned it to the young British violinist Nicola Benedetti, for whom, remembers Morris, "it needed adjusting." Beare's was the obvious place to take it.
While growing up in Yorkshire (as a sufficiently talented violinist to win an instrumental scholarship to Cambridge), Moulds can recall his mother saying, "We need to go to London to have your violin looked at, so we'll go to Beare's."
"It was as though she had said we were going to Rolls-Royce to have the car looked at, because we couldn't possibly have afforded an instrument from there. All the same, it was a great experience. And I'd always thought that when I had some money I would buy a good violin to play."
It was not until 2000 however, by which times Moulds was living in New York, that he decided to do so. "It shows how naïve I was that I thought $10,000 would buy a 'great' instrument. That amount of money couldn't buy you a decent instrument then, but it was never going to come close to a great one. The dealer I went to showed me instruments worth hundreds of thousands of dollars. And I thought, well, I do have some money, so maybe it would be a logical thing to do." The instrument he finally bought was a Guadagnini, which cost a "fair amount", but nothing like the $1.5m-plus at which it is valued now. He plays it still.
It struck him that violins were a sound investment. "I had a fair amount of Bank of America stock, and it seemed a good time to diversify. So I began to buy better instruments – then great ones," A shrewd decision given that, as Morris points out, "having analysed the prices of 17 Strads and Guarneris since the second world war, they show a return of about 13 percent a year, which is phenomenal. Especially when you balance that against risk, which does not really apply because it's an expanding market with a diminishing supply."
"When you're getting that kind of return on any normal asset," says Moulds, "you expect to experience huge volatility, but I don't know of a time when violins have had a down period. They've had a few plateaux, but that has been the worst case."
Moulds refuses to be drawn on the precise number of instruments he owns "for reasons of security, just as I wouldn't show you my bank statements". Suffice to say that his collection is among "the most important" in existence.
"We know he owns fewer than 550," chips in Morris quoting the approximate number of Stradivariuses believed to exist, adding that Guarneri del Gesù, the other pre-eminent Cremonese luthier, produced fewer than 150. Hence the stratospheric sum they can fetch. In 2012, Beare's sold a del Gesù, the Vieuxtemps –Stoutzker, in collaboration with New York dealers Reed Yeboah and Alberghini Fine Violins for "a figure significantly in excess of $16m".
Indeed, as Morris points out, there are probably around 10,000 Italian 18th-century "instruments of quality" in the world. But there are lesser makers to keep in mind, too, he says.
"Take Pietro Guarneri of Mantua, who only produced 50 or so. They're beautiful and wonderfully made, and while they don't have the quality of a Strad of del Gesù, they are very sought after." (In April 2012, Christie's New York sold a c1690 example for $302,500).
Certainly, the fact that Moulds is regularly credited as owning the instruments on loan to noted soloists gives a sense of the significance and extent of his collection.
Among those who have benefited from his support are Nicola Benedetti, who now plays another Stradivaris called the 'Gabriel'; Caroline Goulding (a c1720 Stradivarius known as General Kyd), Alissa Margulis (a 1754 Guadagnini): Arabella Steinbacher (del Gesù's 1741 Jarnovich;) Chad Hooper (a mid 'golden period' Stradivarius); and the leaders of the London Symphony Orchestra (a Guadagnini) and Manchester Camerata (a Stradivarius). "And then there's Jennifer Stumm," he adds, referring to the American viola player. "She emailed me just this morning about wanting to keep her viola for longer."
Staying in touch with musicians is one of the many pleasures of ownership, as is a certain pride in knowing that a fine instrument can really open out a musician's playing. Not that there aren't other joys to be had from this sort of philanthropic investment. Moulds talks about the satisfaction of buying an instrument and having it restored so that "it sounds its best and looks its best and is as close to its former glory as you can get." There's also the expertise required, which enables one to recognise the traits of different makers and the various woods involved in an instrument's construction. Not to mention the experience of hearing different violins. " Each of the Stradivariuses I have looks and sounds very different," he says. (Another of his for instance, is known as La Cathédrale, thanks to its sepulchral tone).
Hence his shared enthusiasm and friendship with Morris, whom he finally met in 2009 at a concert and reception at Kensington Palace, organised by the Beare's International Violin Society, a charitable foundation set up, says Morris, "to encourage people such as Jonathan to buy instruments to lend to players" – and to introduce them to musicians. The pair see each other "five or six times a year". Last summer for example, they went to the Stradivari exhibition at the Ashmolean Museum in Oxford. "And we talk a lot," adds Morris.
While not limiting himself to purchasing from just one source, Moulds tends to buy in the United States (he has homes in New York and Chicago as well as London) and has not yet bought an instrument from Beare's. But he greatly values Morris's objectivity and expertise. "The overall market for top-end instruments may have grown a lot, but there are still a relatively small number of people who really know about the subject," he explains. "And there are people in the trade who have been less than ethical. So I would expect Simon to advise me against some instruments. "That's healthy."
With the right due diligence, however, violins are a good investment. "It is a rarefied market, but speaking as someone with a financial background, I don't know of anything else that has done so well – and given me so much pleasure," he says. It is also a growing market. "I'm not aware of a single Strad having been sold in mainland China", observes Morris." There are Strads in Taiwan and in Hong Kong, but even though people are playing the violin on the mainland, they're not yet buying fine instruments."
Moulds agrees: "Someone told me anecdotally that more people in China play the violin than speak English. So how long can it be before that happens?"
________
Article by  Claire Wrathall
Photographs by: Jude Edginton
THE FINANCIAL TIMES